3 Minute Read:
As we age, our contracting muscles form deep lines in our faces that cause us to look older—particularly around the eyes and forehead. Injectable neuromodulators, such as BOTOX® Cosmetic, act as a muscle relaxant that helps our faces reduce the appearance of wrinkles. Additionally, BOTOX® Cosmetic also works as a preventative measure to stop further wrinkles from developing (at least temporarily).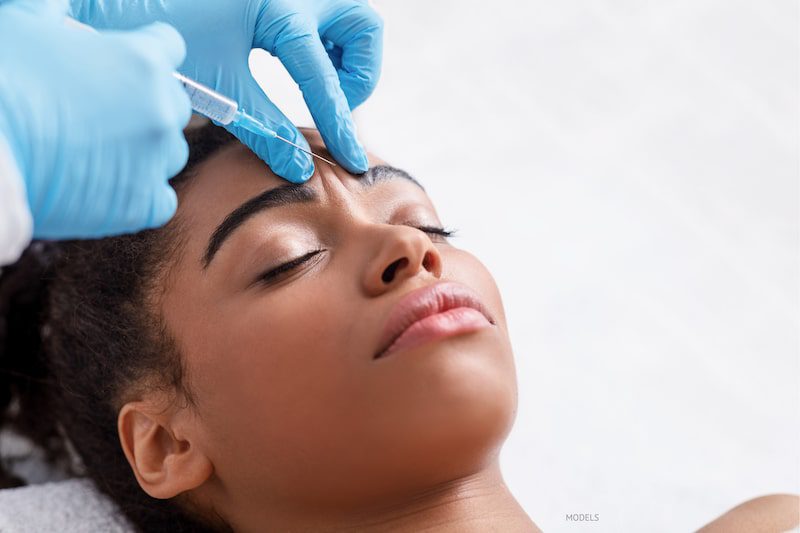 As BOTOX® Cosmetic is so popular, many people may be under the impression that they can go to just about anyone for injections. However, this is far from the truth, and only an expert should inject your BOTOX® Cosmetic.
What Is BOTOX® Cosmetic?
BOTOX® Cosmetic is an injectable serum made from botulinum toxin. This product is FDA-approved for cosmetic injections to improve the appearance of fine lines and wrinkles around the eyes and forehead, such as crow's feet, frown lines (between the eyebrows), and forehead lines.
BOTOX® Cosmetic is also commonly used "off-label" to treat dynamic wrinkles (expression-causing lines) in the lower region of the face, such as around the mouth.
What Are BOTOX® Parties?
Recently, BOTOX® parties have become more popular. These parties usually occur in someone's home with a group of the host's friends and family members. Here, a practitioner (usually a registered nurse, nurse practitioner, or physician assistant) injects BOTOX® Cosmetic to all attendees.
These parties are usually seen as laid-back social gatherings. While they may seem like a good excuse for a much-deserved girl's night, they are certainly not the safest or most appropriate setting for a cosmetic procedure.
When injected by a plastic surgeon, BOTOX® Cosmetic is very safe and predictable; however, this may not be the case for a BOTOX® party. Here, you have no idea of the qualifications of your injector, and you may be left with unsafe and unnatural results.
Additional reasons to be wary of BOTOX® parties include:
You are in someone's home and not in a sterile and clean medical environment
Your injector may not be as trained and may place your BOTOX® Cosmetic in the wrong muscles, leading to unnatural deformity or facial paralysis
You have no idea where your BOTOX® Cosmetic came from and if it is from a reputable source
BOTOX® Cosmetic is a toxin and should only be administered by skilled plastic surgeons. You never want to allow anyone other than a medical professional to inject you with a needle (for health and safety reasons).
What Should You Look for in a BOTOX® Cosmetic Provider?
Board Certification
Facial plastic surgeons go through many levels of certification that prove and back-up their training and experience. Finding board-certified facial plastic surgeons is the best way to ensure that your surgeon has received proper training, gone through specialized residency, and passed their certification exam. These qualifications reduce the risks of working with an inexperienced plastic surgeon.
Dr. Butler is a double-board-certified facial plastic surgeon with over two decades of experience.
Years of Experience
As a general rule, the longer a doctor has been practicing, the better they will be at their job. Experience is valuable in every position, and plastic surgery is no exception. Consider choosing a doctor with lengthy experience. .
Testimonials
Look to see if your plastic surgeon has testimonials from previous customers on their website. This is a sign of a doctor with a happy clientele base.
A Doctor Who Performs Injections Themselves
Lastly, you may want to consider other factors, such as if the plastic surgeon does the injections themselves or has their assistants complete the injections for them. You can ask questions like this during your consultation.
Interested in BOTOX® Cosmetic?
Dr. Butler has all of these qualifications and more. Join the ever-growing customer base of Dr. Butler's happy BOTOX® Cosmetic patients. Book your consultation today by calling (310) 428-0033 or filling out this form.