3 Minute Read:
While surgical cheek enhancements provide stunning results, not every patient requires surgery to achieve the facial contour of their dreams. Patients may want to consider a non-surgical cosmetic treatment like injectable fillers if they seek a less invasive option with its own advantages. 
There are many pros and cons for both temporary dermal fillers and permanent implants. Here is a guide to help you discover the treatment that is right for you.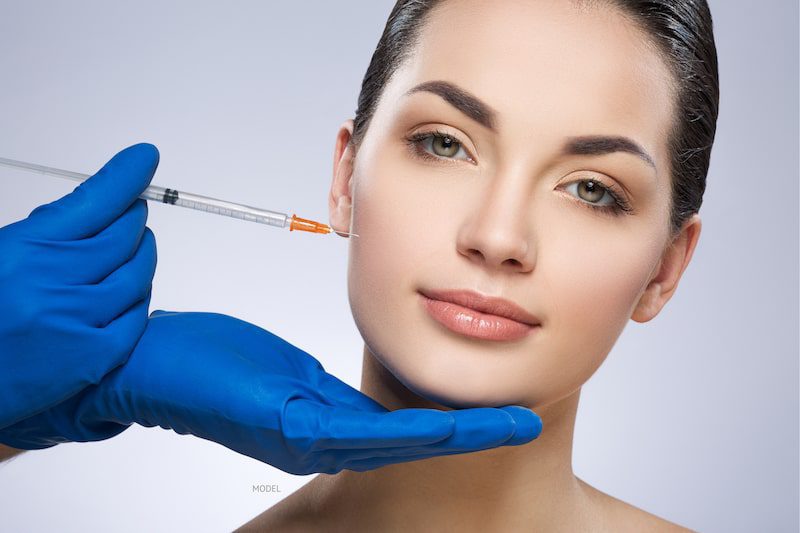 What Are the Advantages and Disadvantages of Cheek Implants?
One of the main advantages of cheek implants is the longevity of their results. Cheek implant surgery involves placing silicone implants through an incision made inside of the mouth.
Cheek implants offer patients the ability to maintain enhanced cheek definition without having to return for repeated injections every year.
For people with inherited or age-related deficiency of bone structure of the cheeks, chin, or jaw, implants are the best way to directly address these problems. The enhancement of facial definition and balance is immediate and permanent, and the implants can be customized to account for asymmetry of facial development. When combined with other facial rejuvenation procedures, such as a facelift, the improved support provided by the implants significantly reduces the amount of "extra skin" that would be trimmed during the lift procedure. This reduces the length of any lift scar.
While surgical implants are safe and very effective, there can be disadvantages that come with their use. Infection or reaction around an implant can occasionally occur, particularly after trauma, and may require medical treatment, temporary removal, or replacement. Sometimes, further loss of bone under an implant may require future adjustment in implant size or addition of an injectable soft tissue filler.
Some of the possible disadvantages of cheek implants include:
More invasive treatment method
Swelling from the procedure that can take several months to resolve in some patients
Cheek asymmetry that is only visible after full surgical recovery
Undesirable results may require additional surgery or filler injections
An additional need for dermal filler due to facial aging down the line
What Are the Advantages and Disadvantages of Injectable Fillers?
Injectable dermal fillers restore or create youthful facial definition safely and predictably with minimal downtime. Volume correction to the face can be seen almost immediately after an injectable session, allowing patients to return to their usual activities the same day with noticeably fuller contours.
Due to their quick treatment and result time, dermal fillers are great for patients who want to look their best for a wedding, birthday, or reunion.
Another advantage of injectable fillers is the versatility and accuracy of their application. There are many different types of filling agents. This allows for proper selection of the right filler for, say, cheek enhancement, and another type for lip enhancement, or for supporting surface depressions or skin furrows. Dr. Butler places small quantities of filler in different areas, artistically sculpting the ideal amount for balance and symmetry. This allows for easy customization when used alone, and can also be used to "fine-tune" results of facial implants or fat grafting.
Hyaluronic acid fillers are also temporary and have a reversal agent called hyaluronidase. If something wasn't quite right with your results, hyaluronidase breaks down the hyaluronic acid without invasive treatment.
Some of the disadvantages of injectable fillers include:
More filler material may be required to create structural volumization
Depending on fillers to make up for significant bony deficiency or soft tissue sagging can lead to inadequate correction and financial expense that approaches that of a more permanent surgical solution
Results may only last between one to two years before requiring additional filler
Very infrequently, unintended injection into blood vessels or nerves can lead to potentially serious complications
Interested in Learning More?
Cheekbone definition is one of the most desired and sought after characteristics. A consultation with a board-certified facial plastic surgeon will help you make the right choice between injectable fillers, surgical cheek enhancement, and other forms of facial plastic surgery.
Call BUTLER FACIAL PLASTIC SURGERY in Santa Monica, California, at (310) 428-0033 or fill out our online contact form to schedule a consultation.