Time and normal wear and tear eventually cause the skin on the neck to become heavy and sag. This, along with wrinkles and skin creases, can cause men and women to look older than they are. Luckily, a neck lift can help correct these cosmetic concerns and create a smooth and naturally tighter appearance.
After neck lift surgery, men and women can achieve a more toned and youthful appearance and subtle changes to the overall facial aesthetic.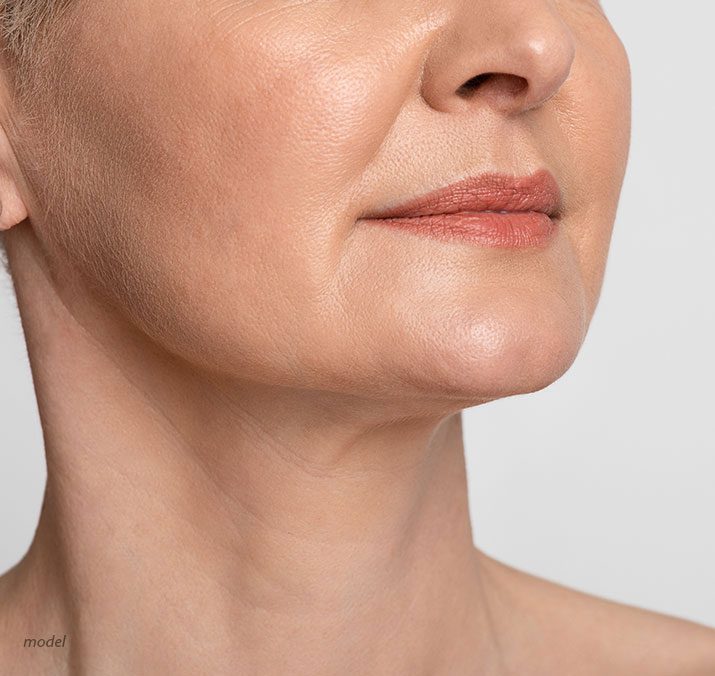 What Can a Neck Lift Do?
Reduce Sagging Skin
Many men and women suffer from sagging skin on their necks. Whether it is minor laxity or the dreaded "turkey neck," this excess skin can detract from the appearance of vitality. Luckily, one of the primary purposes of neck lift surgery is to reduce sagging skin so you can achieve a more defined neck aesthetic.
Remove Wrinkles
Wrinkles are a common side effect of age. Neck skin is generally thinner, highly used with repetitive motion, and exposed. Obvious vertical banding can further distract from your youthful appearance.
A neck lift helps eliminate these concerns by tightening the skin and underlying muscles. Etched surface creases require additional techniques, such as laser treatment, for improvement.
Create a Contoured Jawline
One of the most common complaints from patients is the presence of jowls and an undefined jaw. A neck lift removes excess fat with facial and neck liposculpture so you can get rid of your double chin and create a more defined jawline. For men, this creates a more masculine appearance, while women can achieve a more balanced appearance.
Often chin or jaw implants are used in concert with a lift to provide the best results.
Increase Confidence
Since the neck is so visible, many men and women feel self-conscious and even embarrassed by signs of aging and damage. After your neck lift, you can look forward to feeling more comfortable and confident with your appearance.
No more summertime turtlenecks!
The Neck Lift Procedure Process
Neck Lift Consultation
As with any plastic surgery procedure, your consultation with Dr. Butler is one of the most important aspects in ensuring success for your neck lift procedure.
During your consultation, you will be able to discuss your aesthetic concerns. Additionally, Dr. Butler will:
Examine your condition
Review your medical history
Discuss your desired goals for your neck lift
Create a surgical plan for you
Explain the surgical plan and recovery process
Anesthesia
Dr. Butler uses local anesthesia or general anesthesia for his neck lift patients. This ensures that you will not feel any pain or discomfort during the surgery.
Neck Lift Procedure
A neck lift includes a cervicoplasty to remove excess skin and a platysmaplasty to tighten the muscles.
For this procedure, Dr. Butler will make small incisions in the area (usually behind the ear and under the chin). These are often the same incisions used for a facelift. If necessary, liposuction surgery is used to remove submental fat beneath the chin (double chin). For this, Dr. Butler will insert a thin tube called a cannula through an incision. The cannula is used to reduce excess or malpositioned fat with a medical vacuum
If a jaw-defining implant is warranted, it is placed through the same incision.
Dr. Butler will tighten underlying muscles with internal sutures and surgically trim excess skin before closing the incisions.
This procedure usually takes two to three hours to complete and is performed on an outpatient basis.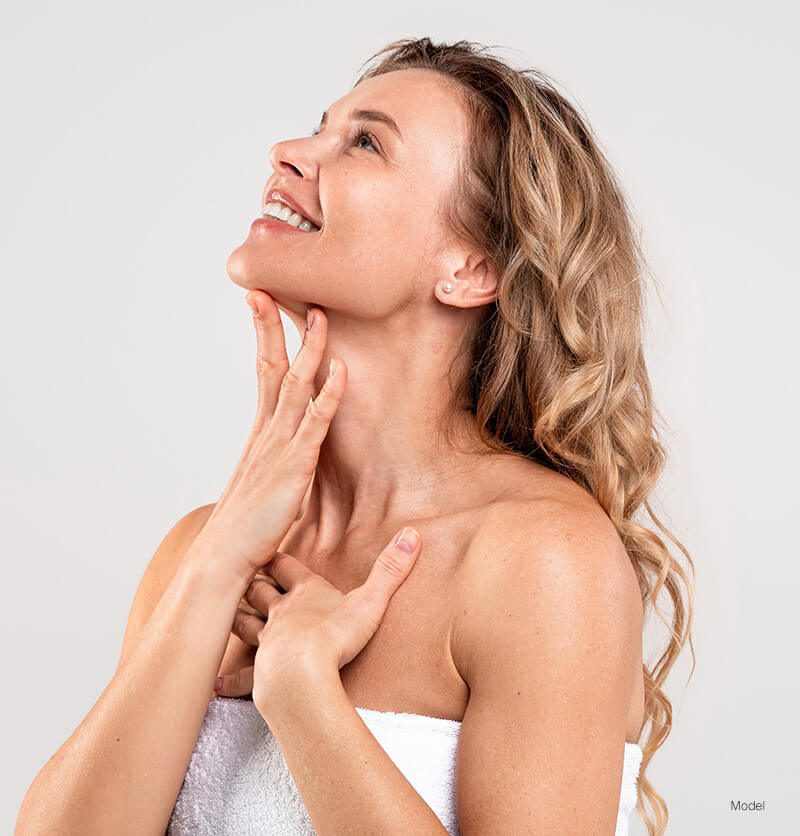 Recovery
Swelling and bruising may occur shortly after the procedure and last up to 10 days, and you may also experience some soreness and discomfort. Most people can return to work and other regular activities within two weeks; however, you should avoid strenuous activities for longer.
Scars
Since the neck lift is surgery, an incision is made. Any scar will fade over time, hastened by medical grade skin care. Additionally, because of the placement of the incisions, many patients find that their neck lift scars are barely visible, if at all.
While you will start seeing improvements in your neck during the days and weeks after your lift, it can take up to six months for your results to become final. At this time, you can look forward to having a more contoured jawline and smoother skin to help you look and feel your best.
Though your results will be long lasting, a neck lift cannot prevent the natural effects of aging. However, by maintaining a healthy lifestyle (a balanced diet and regular exercise), you can maintain your stunning neck lift results even longer.
Testimonials
"Dr. Butler is amazing, the best!"
Testimonials
"Very smart, very prepared, respectful and seems to really care. What more could you ask for in a doctor?"
Testimonials
"…He was recommended by other highly acclaimed doctors.He is very kind and takes the time to explain the procedure he will use. I can't say enough great things about Dr. Butler and his office.
He is just the best doctor and patient could have."
Model
Neck Lift FAQ
Am I a neck lift candidate?
If you are frustrated with the appearance of sagging skin, wrinkles, or fine lines on your neck, then neck lift surgery may help. At your consultation, Dr. Butler will examine your neck to determine if this procedure is right.
Ideal candidates are non-smoking men and women who are in good general health and have realistic expectations for their results.
What procedures can be combined with a neck lift?
While many patients choose to have neck lift surgery performed as a standalone procedure, others prefer to combine their lift with other facial procedures, including facelift surgery, eyelid surgery (blepharoplasty), or forehead lift surgery (brow lift surgery).
By combining procedures, patients can achieve a more complete facial transformation and cut down on the overall cost and recovery time (since they are having their procedures performed and recovering from them simultaneously).
How much is a neck lift in Santa Monica?
As with any plastic surgery or cosmetic treatment, neck lift surgery costs vary for each patient and procedure. The overall cost is based on many factors, including the extent of the surgery and whether you are combining any other procedures with your neck lift.
Once your consultation is completed, Dr. Butler's coordinator will explain any associated costs, and help arrange scheduling.
What are the side effects of neck lift surgery?
Every cosmetic surgery procedure includes some side effects during the recovery process. These side effects include:
Bruising
Swelling
Temporary numbness
Temporary soreness
There is also a very small risk of facial nerve damage that may occur during surgery and can result in muscle paralysis. This is nearly always transient.
Hematoma (blood collected under the skin) can occur and is promptly treated to avoid healing complications.
Although complications are rare, they emphasize the importance of choosing a skilled and experienced surgeon for your cosmetic procedures.