What Can an Endotine® Lift Correct?
Sagging Forehead Tissue
One of the Endotine® lift's major benefits is that it can raise the brow, forehead, and upper eyelid tissues without requiring a full surgical brow lift incision. This means that patients get the benefits of an elevated brow line without the invasiveness and resulting scar of the traditional brow lift.
Excess Upper Eyelid Tissue
An Endotine® lift uses the same incision location as an upper eyelid lift, meaning that an Endotine® lift can accomplish the goals of an upper eyelid lift and brow lift at once. It can open sightlines restricted by sagging brows from both the eyelids and the forehead.
Lift Uncertainty
One of the major challenges of a brow lift or facelift surgery is getting the newly lifted tissues to stay in place. The implant used during an Endotine® lift does that automatically by acting as an anchor for the lifted tissue. The Silhouette Lift® also provides structural support to the surrounding tissues.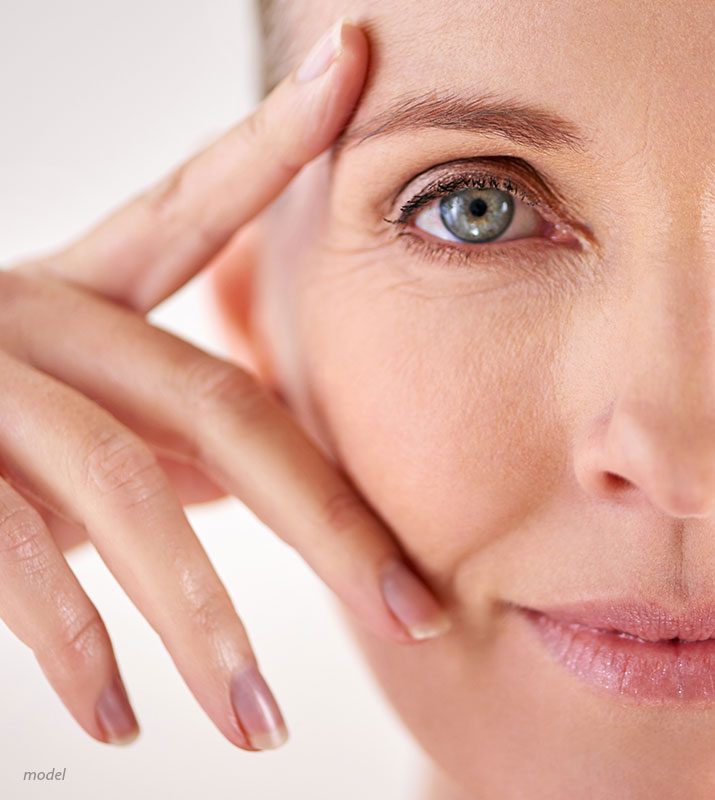 What Are My Minimally Invasive Facial Rejuvenation Options?
Endotine®
Forehead Lift
As with most surgical procedures, an Endotine® lift requires a consultation and examination before a patient undergoes the procedure. This ensures that patients get what they are looking for and allows Dr. Butler to make sure there are no medical contraindications.
The Endotine® Forehead Lift can be performed using local anesthesia with sedation or general anesthesia.
During the operation, small incisions are made above the forehead hairline without shaving or removing any hair. Sagging forehead tissue and eyebrows can be adjusted and fixed to a stable support device. This is composed of a dissolvable biologic material that is gradually replaced by the body's own fixative tissue. No permanent foreign object is inserted.
Midface Lift
For an Endotine® Midface Lift, the lifting device is inserted through a small incision in the temple hair. A rejuvenating lift is given to the apple of the cheeks, and folds between the lips and cheeks are improved.
Brow Lift
The Endotine® Brow Lift is performed through the existing crease of the upper eyelid (just as those used in traditional upper blepharoplasty). The Direct Brow device is inserted. This device secures and lifts the sagging eyebrow tissue across three stable soft tissue anchors. Excess skin from the upper eyelid is removed—as with a traditional upper eyelid lift—and fat pockets in the upper eyelid are repositioned, if needed.
Silhouette Lift®
The Silhouette Lift® is a minimally invasive facelift alternative (for qualifying candidates) that uses biodegradable threads (micro-cones) to adjust the facial contours. The procedure is performed under local anesthesia.
The threads are inserted under the skin in the mid-face, and the targeted tissues are tightened and secured. The threads will dissolve naturally over time. Because of this, the Silhouette Lift® treatment requires no follow-up procedures to remove the sutures.
Before the threads dissolve, they will provide physical support to the skin and promote collagen growth. Collagen is a protein found in the skin that keeps the skin tight and firm.
Recovery
Recovery from a minimally invasive facial procedure, like the Endotine® lift, is usually quicker and more comfortable. It involves less temporary swelling and discoloration than a traditional open surgical procedure. 
Patients should keep their incision locations clean and dry for the first week. Most patients can resume daily activities within a week and rigorous activities within two to three weeks.
Scars
While minimally invasive, Endotine® lift surgery will result in small scars at the incision points. These scars should be well concealed within the natural creases of the upper eyelid but may be visible under specific circumstances. All scars fade over time and will fade faster with proper care. Patients should keep their improved faces out of direct sunlight for the first month following their operation.
Cost
The cost of an Endotine® lift or Silhouette Lift® can vary depending on your aesthetic goals and the extent of your facial aging.
Your surgeon will be able to provide you with a personalized price for your procedure during your consultation after he determines the extent of the treatment.
Pain
While not as significant as a full surgery, minimally invasive facial treatments can cause discomfort or pain during the recovery process. This usually fades within a week and can be treated with a combination of over-the-counter medications, hot and cold compresses, and rest.
Model
Frequently Asked Questions
Am I the right candidate for an Endotine® lift?
People looking for significant facial rejuvenation without going through a full surgical procedure are good candidates for minimally invasive facial treatments. An Endotine® lift is ideal for patients with mild to moderate forehead laxity. Those with significant sagging and deep-set wrinkles may be better suited with a traditional brow lift.
Prospective patients should be in good health and have realistic expectations of their results.
What are the side effects of Endotine® lifts?
Endotine® lifts can cause minor side effects during recovery, such as swelling and irritation. Most patients find these side effects are rare, temporary, and well worth the benefits provided.
Will I be satisfied with my minimally invasive facial treatment?
There are always risks of side effects with any surgical procedure, such as pain, unfavorable scarring, and infection. These risks occur any time an incision is made as part of a surgical procedure (even a minimally invasive one). These risks are low but cannot be entirely discounted.
Most patients are fully satisfied with the results of their procedure. It can take up to six months for final results to develop. If you are unsatisfied with your appearance following your operation, please wait before planning a revision procedure.
When will I see the results of my facial rejuvenation?
Initial results will become visible within a week of the procedure. The final results are revealed when swelling completely subsides.
Can I combine my facial rejuvenation treatment with other procedures?
Yes. Minimally invasive facial treatments can be combined with liposuction of the neck or a neck lift to augment your appearance further.
If minimally invasive procedures don't provide the results you hoped for, surgical options such as facelift surgery, brow lift surgery, or eyelid lift surgery can still be performed.