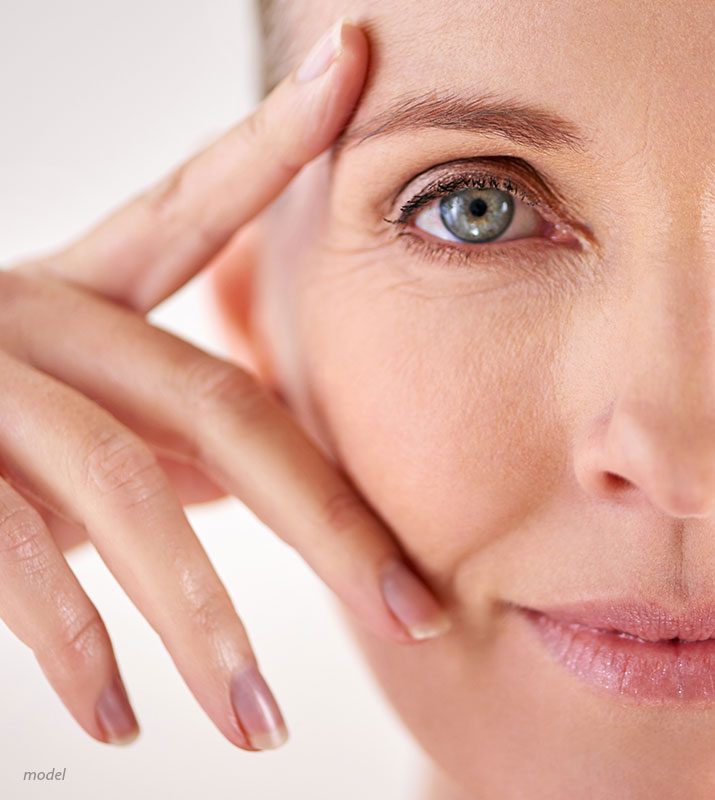 How Will My Endotine® Lift Be Performed?
Consultation
As with most cosmetic procedures, an Endotine® Lift requires a consultation and examination. Dr. Butler will listen carefully to your cosmetic concerns and ultimate goals, review your medical history, and explain your options to achieve your desired results.
Before the end of your consultation, our team will provide you with an accurate cost estimate, and if you choose to move forward, your procedure can be scheduled. Depending on the facial rejuvenation options you choose, there will be some pre-operative tests to complete before your surgery.
Endotine® Lift Procedure
The Endotine® Lift improves the appearance of the upper eyelids by tightening these tissues through small incisions made within the crease of the upper eyelid (just like a traditional upper blepharoplasty). Excess skin and fat pockets are removed, and the upper eyelids are repositioned if needed.
Small incisions are placed within the hairline above the forehead to adjust the brow and forehead. Sagging forehead tissue and eyebrows are then modified with fixed dissolvable support devices made from biological material. These are gradually replaced by your body's own connective tissue.
This procedure is performed under local anesthesia with sedation or general anesthesia and typically takes one to two hours on an outpatient basis.
When Combined With a Mid-face or Silhouette InstaLift®
When adding an Endotine® mid-face lift, the dissolvable biological device is inserted through an incision hidden behind the hairline near the temples. Volume can be added to the cheeks, while the appearance of wrinkles, lines, and creases between the mouth and cheeks is improved.
The Silhouette Lift® is a non-surgical facelift option (for qualifying candidates) that uses biodegradable threads (micro-cones) to adjust facial contours and can be performed with local anesthesia.
These threads are inserted under the skin and target the mid-face area, tightening, securing, and supporting multiple layers of skin while promoting collagen production, a protein found in your skin that helps keep it tight and firm.
Recovery
Recovery from a minimally invasive facial procedure like the Endotine® Lift is quicker, more comfortable, and involves less swelling and bruising than its conventional surgical counterparts.
While not as significant as traditional plastic surgery, minimally invasive procedures can cause discomfort during recovery. However, this usually subsides quickly and can be treated with over-the-counter medications, cold compresses, and rest.
Patients should keep their incision sites clean and dry for the first week, and most patients can return to work or resume their normal daily activities within a week. Avoid vigorous activities for two to three weeks as directed by Dr. Butler.
Scars
While minimally invasive, Endotine® Lift surgery will create small scars at the incision sites. These scars should be well concealed within the natural creases of the upper eyelid or within the hair at the temples but may be visible in some situations.
All scars fade over time, and you can expedite this process by staying out of direct sunlight for the first month after surgery and using a scar cream. Maintain your results by protecting your treated skin from harmful UV rays and environmental toxins.
Results
Initial results will become visible within a week of the procedure. Final results are revealed when swelling subsides completely but may take as long as six months. When taken care of, these results can last two to five years.
According to a study published by The American Society of Ophthalmic Plastic and Reconstructive Surgery, patients who underwent the Endotine® Lift procedure reported a high satisfaction rate, with 95.3% either happy or very happy with their results.
You can expect a more youthful and attractive facial appearance, especially around the eyes, brow line, and forehead. Combining your Endotine® Lift with one or more procedures to address the lower to mid-face areas will make your results more comprehensive.
Model
Frequently Asked Questions
Am I the right candidate for an Endotine® Lift?
People looking for significant facial rejuvenation without a full surgical procedure are good candidates for minimally invasive facial treatments.
An Endotine® Lift is ideal for patients with mild to moderate forehead laxity and eyelid drooping.
Those with significant sagging and deep-set wrinkles may be better suited for treatment with a traditional eyelid, brow lift, or facelift surgery.
Prospective patients should be in good health and have realistic expectations of their results.
---
Can I combine my Endotine® Lift with surgical cosmetic procedures?
Yes. Minimally invasive facial treatments can be combined with liposuction of the neck or a neck lift for additional cosmetic facial improvement.
---
How Much is an Endotine® Lift in Santa Monica, CA?
The cost of an Endotine® Lift can vary depending on your aesthetic goals and the extent of your facial aging.
Dr. Butler offers a personalized quote for your procedure during your consultation after he determines the extent of the treatment needed to achieve your goals.
---
What are the side effects of Endotine® Lifts?
Endotine® Lifts can cause minor side effects during recovery, such as swelling and irritation. Most patients find these side effects rare, temporary, and well worth the benefits provided.
Complications can occur whenever an incision is made as part of a surgical procedure (even a minimally invasive one). These risks are low but cannot be entirely discounted and may include pain, unfavorable scarring, and infection.
Most patients are delighted with the results of their Endotine® Lift. If you are unsatisfied with your appearance following your procedure, please wait six months before considering a revision.