5 Minute Read:
Full lips are a sign of youth and vitality. And today, women who want full, luscious lips have more options than ever. In fact, with so many advances in lip augmentation techniques, it can be hard to know which is right for you.
Here's the scoop on different lip augmentation options, including how they're performed, how long they last, and what you can expect.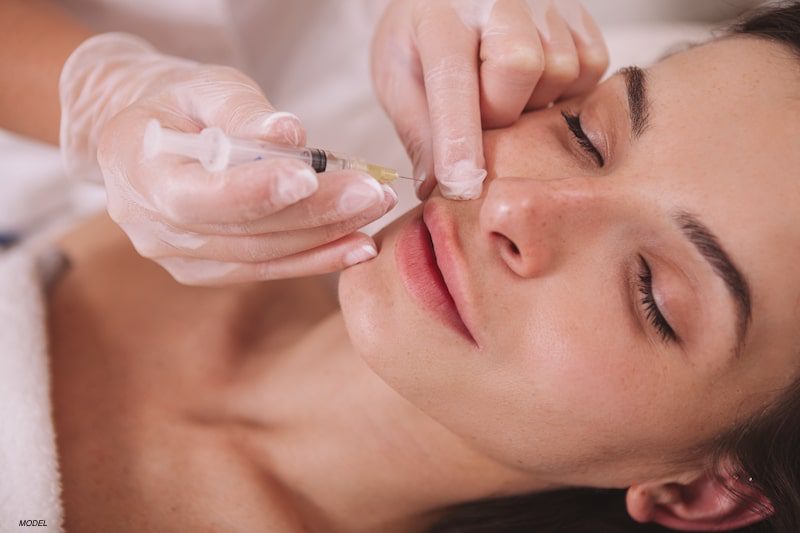 Lip Fillers (Injectables)
Lip fillers have long been the go-to for those seeking fuller lips. Lip fillers are injections of a gel-like substance, usually hyaluronic acid (a naturally occurring substance in the body that attracts and maintains moisture). Other injectable substances which stimulate collagen growth may also be used.
Dermal fillers are also often used to minimize lines and wrinkles around the lips, such as smoker's lines, lipstick lines, and perioral wrinkles.
How Dermal Fillers Work
Lip fillers increase lip fullness by physically plumping the lips. Your provider will inject the substance, such as JUVÉDERM®, just beneath the lip skin in strategic areas to create a more voluminous pout.
Injectables may augment the top lip, bottom lip, or both. Because this treatment uses an injectable product, it is easily customizable for subtle or more noticeable results.
How Long Does the Lip Filler Procedure Take?
Depending on how many injections you receive, your lip filler procedure should take 15 to 20 minutes.
Is There Pain After Lip Fillers?
Many lip fillers, including JUVÉDERM®, include a numbing agent like lidocaine. While you may feel some stinging during the injection and a slight burning sensation for the following 15 minutes or so, there should be no significant discomfort.
Is There a Recovery Period After Lip Fillers?
There is virtually no downtime after a lip filler session. You should be able to return to your normal activities right away.
Is There a Downside to Lip Fillers?
There is a risk of giving an "overfilled" look unless you select an experienced provider. Additionally, results are not permanent, so you will have to go back in the future for more injections if you'd like to keep your look.
How Long Do Lip Fillers Last?
Lip fillers can be expected to last 12 to 18 months, depending on the filler you choose and how your body reacts to it.
Fat Transfer Lip Augmentation
Fat transfer is an increasingly popular option for lip augmentation. Because your own fat is used, the risk of rejection is virtually nonexistent. It can give a subtle but rejuvenating look to the lips.
How Fat Transfer Lip Augmentation Works
Fat is removed via liposuction from the belly or hips. The fat is carefully purified, then injected into your lips.
Including purifying the body fat, the entire procedure should take 60 to 90 minutes. The injections should take about 15 to 20 minutes.
Is There Pain During Fat Transfer?
Because fat transfer uses multiple techniques (liposuction and injections), an anesthetic will be used to make you more comfortable. If you have discomfort afterward, your surgeon will advise you on what medications you can take.
Is There a Recovery Period After Fat Transfer Lip Augmentation?
You should expect some bruising and swelling for up to two weeks. It can take three months to know what your final look will be.
Is There a Downside to Fat Transfer?
Fat transfer is an art, much like any plastic surgery. You need to choose a board-certified plastic surgeon who is an expert at this method of lip augmentation so that you achieve a natural look.
How Long Does Fat Transfer Last?
An expertly performed fat transfer should last a minimum of five years.
Lip Implants
Lip implants consist of soft, flexible silicone. They offer a more permanent solution to thin or aging lips.
How Lip Implants Work
Lip implants can be placed under a local anesthetic in as little as 30 minutes. A tiny incision is made inside of the mouth, through which the implant is tunneled through and positioned into place.
Is There Pain Like With Lip Implants?
Lip implant placement is a minor surgery. It may be more uncomfortable than injectable lip fillers or lip grafting; however, you will be numbed during the procedure and can take over-the-counter or other pain medications following the placement of the implants.
How Long Is Recovery After Lip Implants?
Expect swelling and some bruising for up to two weeks. After that, swelling should gradually decrease until you have your final look. Follow your surgeon's instructions on dealing with discomfort and swelling.
Is There a Downside to Lip Implants?
If you eventually want a different look, you can not simply wait for the volume to decrease the way you can with injectable fillers.
How Long Do Implants Last?
Lip implants are permanent and can only be removed via another surgery.
Lip Lift
In a young person, the area between the end of the nose and the lips — known as the philtrum — tends to be short. It lengthens as we age. A lip lift shortens the philtrum and can be a great option for rejuvenating one's look.
How a Lip Lift Works
A small incision is made under the nose. A small strip of skin is removed. Then the incision is stitched closed, lifting the lip. This option also tends to rotate the upper lip up so that more pink lip is showing. This gives the added benefit of a fuller-looking upper lip.
Is There Pain With a Lip Lift?
A lip lift is a minor surgical procedure, and you may experience some discomfort afterward that can be remedied with over-the-counter medication and cold compresses.
How Long Is Recovery After a Lip Lift?
Keep the area clean per your surgeon's instructions. Do not pull at the stitches. Expect some swelling around the area for up to two weeks.
Is There a Downside to Lip Lifts?
Lip lifts do not physically add volume to the lips themselves; the change to the upper lip is similar to an optical illusion.
How Long Does a Lip Lift Last?
A lip lift is permanent, but the aging process means extra space could appear between the nose and upper lip again eventually.
Choosing Your Ideal Lip Augmentation Option in Santa Monica
You and Dr. Butler should discuss the above, including recovery time, how dramatic a look you want, and your expectations. With the right knowledge, you have the best chance of achieving a look and experience you'll love.
To learn more about your lip augmentation options, contact Dr. Butler by calling (310) 428-0033 or filling out our online contact form.