3 Minute Read:
Liposuction is a minimally invasive surgical procedure that removes subcutaneous fat from the body. Most people associate liposuction with fat removal from the abdomen, waist (love handle), thighs, arms, or back.
But did you know that liposuction can also be used to remove and restructure pockets of fat in the face?
Many people struggle with stubborn pockets of fat — and it can be even more frustrating when they are on the face and neck area.
Below we will discuss the benefits of facial liposuction for popular problem areas like the double chin.
What Is a Double Chin?
A double chin appears when you have an excess layer of fatty tissue (submental fat) under the chin and jawline, making it look like you have two chins. A double chin can occur for many reasons, including excess weight, excess skin, muscle loss, aging, or genetics, and it can make you look older and heavier than you really are.
It's also tough to eliminate with diet and exercise — especially if you are genetically predisposed to having submental fat. The face can retain excess weight much longer than more dynamic areas of the body, making this a frustrating occurrence.
According to a 2021 American Society for Dermatologic Surgery survey, 70% of respondents claimed excess fat under their chin/neck as their top cosmetic issue. If you're bothered by a stubborn double chin, you're not alone.
Keep reading about liposuction and liposculpture at Butler Facial Plastic Surgery.
Facial Liposuction and Liposculpture
Liposuction is an efficient, tried-and-true method of fat removal that could be the key to your ongoing double chin struggle. This minimally invasive procedure removes excess fat pockets from the face and body to eliminate problem areas with minimal recovery time.
For the face and neck, Dr. Butler performs precise contouring to sculpt and shape the face using liposculpture — a revolutionary method of targeted face and neck liposuction that combines fat removal with fat grafting and repositioning.
If you feel that your face and neck are disproportionate, with excess fat in some areas and a loss of volume in others, liposculpture with Dr. Butler will reshape and restore youthful volume exactly where you want it.
During a liposculpture procedure, targeted liposuction of the jaw, chin, and/or neck will remove unwanted fat pockets. This fat is then purified and injected into precise facial locations to restore volume and plumpness, such as the cheeks, nasolabial folds, tear troughs, lips, or temples. This is a process known as structural fat grafting.
A custom-made, precise liposculpture procedure can create or restore attractive jawline, chin, and neck contours while returning plumpness and volume to the under-eyes, cheeks, and facial creases for a stunning, natural full-face rejuvenation.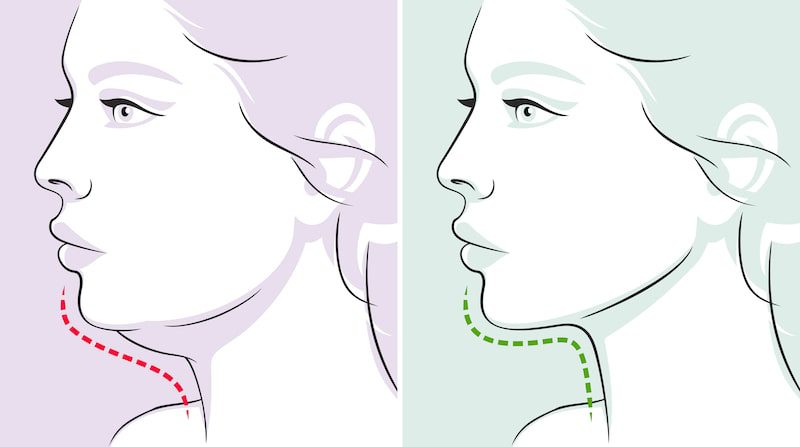 How to Combine Other Procedures With Liposuction For Double Chin
Liposuction is versatile and can be combined with many other procedures to give you the defined angles and contours you desire.
While liposuction removes unwanted fat pockets, some patients incorporate a neck lift or facelift procedure to tighten excess or sagging skin.
Or, perhaps you are more interested in minor tweaks to the face in addition to your facial liposuction procedure: dermal fillers can minimize the appearance of fine lines and wrinkles or add volume to the lips and mouth area for an overall more youthful appearance.
Interested in Liposuction for Double Chin in Santa Monica, CA?
At Butler Facial Plastic Surgery, artistry and medical expertise are combined to provide unparalleled care for facial cosmetic procedures. Call us today at (310) 428-0033 to learn more about liposuction and liposculpture for double chin.