4 Minute Read:
Wrinkles, fine lines, and skin laxity become more prominent as we age. When this happens, many women and men find themselves feeling self-conscious and even embarrassed about their appearance. And while facelift surgery is a fantastic option to help patients restore a more youthful aesthetic, the simple reality is that not everyone is ready for (or even needs) a facelift.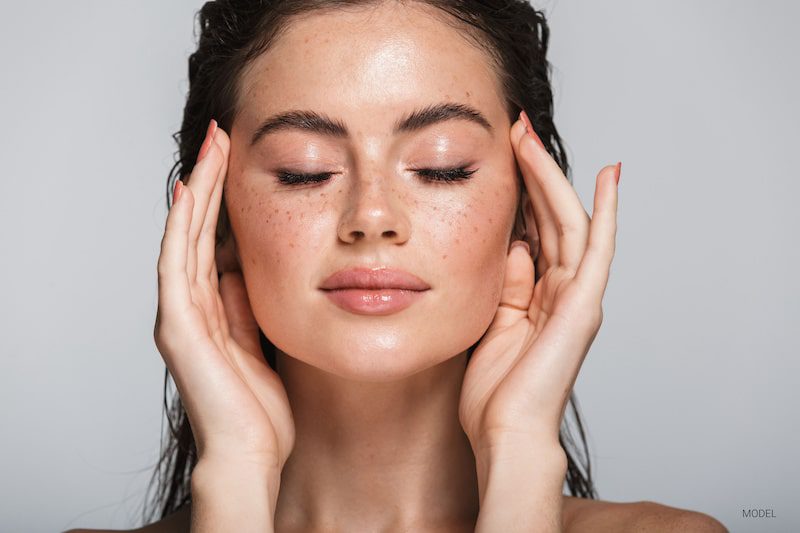 If your face is starting to show signs of age (or the effects of your lifestyle), and you are looking to address these concerns without a surgical procedure, then you're in luck!
Below, we will discuss three of the most revolutionary and effective "facelift alternatives."
What Are the Benefits of Facelift Alternatives?
In addition to helping you look years younger, these alternative treatments are minimally invasive, meaning that you won't need to worry as much about extensive incisions or long recovery and downtime.
Not only that, but results can last years (especially when coupled with a healthy lifestyle and good skin care routine).
What Are My Facelift Alternative Options?
During a facelift, incisions are made on each side of the face, through which underlying muscle and facial tissues are tightened, fat is repositioned, excess skin is removed, and the remaining skin smoothed. For qualifying patients, facelift surgery provides very noticeable improvement and helps patients look years younger and more refreshed.
However, for patients who experience only mild skin laxity, the following minimally invasive options can offer the correction needed so that they feel proud of the face they see in the mirror.
1. Endoscopic Mid Face Lift
As the name suggests, the endoscopic mid face lift addresses concerns in the midface (the area from the lower eyelids to the mouth).
With this procedure, an endoscope (a tool with a camera attached to the end of it) is inserted through a small incision in the face. This camera aids Dr. Butler when tightening the underlying facial structure and allows him to address everything from sagging cheeks to lax, deep lines to prominent nasolabial folds.
While no skin is removed during this procedure, you can look forward to a smoother, more contoured facial appearance after your endoscopic mid face lift.
2. Silhouette Instalift®
The Silhouette Instalift® provides visible improvement for those with early facial laxity who are not yet candidates for a more substantial procedure. This non-invasive procedure requires limited downtime, and can rejuvenate appearance for a few years. At that time a more permanent solution may be used.
With the Silhouette Instalift®, small incisions are made in the face. Absorbable sutures are used to tighten the underlying facial structure while stimulating collagen production (the protein responsible for the health and strength of the skin).
Small, hidden puncture sites allow placement of specialized sutures that engage and suspend sagging tissues. The sutures are replaced by the body's own fibrous supporting tissue.
No permanent foreign material is used.
3. Endotine® Lift
While the endoscopic mid face lift and Silhouette Instalift® address age-related concerns in the lower and midface, they do not directly correct issues in the upper face.
The Endotine® Lift is a minimally invasive procedure which addresses midfacial laxity that can be used for upper facial (forehead) laxity.
Using this technique, brow lift surgery (forehead lift surgery and midfacial lifting can be accomplished with limited downtime. A dissolvable stable support device that is replaced over time by the body's own tissue is used to lift and fix in place sagging fat, muscle and skin. These "Endotines" are placed through very small incisions which heal inconspicuously (meaning that you can achieve continued improvement to your facial structure and appearance).
An Endotine® Lift can be combined with a number of other well-known rejuvenative procedures, including eyelid surgery (blepharoplasty) and rhinoplasty, or facial implant surgery.
Which Procedure Is Right for You?
At your consultation with Dr. Butler, you can discuss your aesthetic sensibilities and goals. Additionally, Dr. Butler will consider your general health, available healing time, and other concerns to determine which procedure option will be most beneficial to you.
Want to Learn More About Your Facial Rejuvenation Options in Santa Monica, CA?
If you have questions about any of the facial procedures that we offer at Butler Facial Plastic Surgery, schedule your consultation with Dr. David Butler by calling (310) 428-0033 or filling out our online contact form.