3 Minute Read:
An aging neck can give away your true age even if your face appears youthful. As with facial skin, the neck is prone to wrinkling, sagging, and banding, and this can result in an older and weathered look, often way before your time.
In addition to that, it is common for women and men to completely neglect their necks when considering their skin care regimens.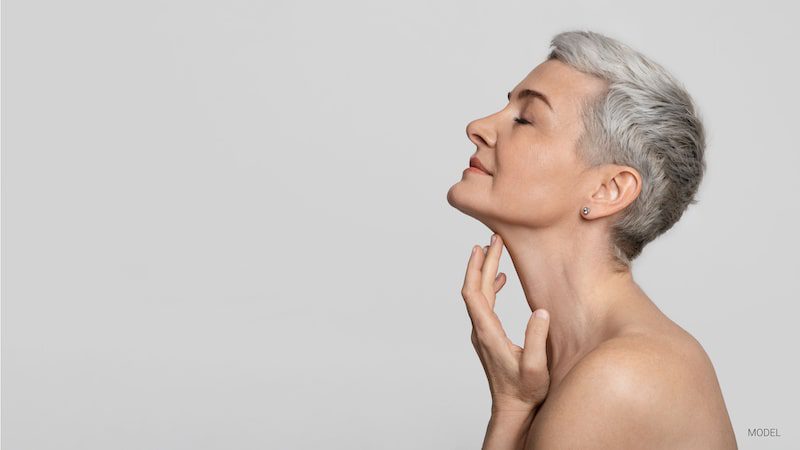 Fine lines and wrinkles on the neck are caused by several factors, including hereditary traits, stress, aging, lifestyle choices, or environmental conditions (particularly pollution and sun damage).
Exposure to these situations will, with time, cause the skin to lose its elasticity, creating unappealing folds, wrinkles, or visible "turkey neck" in places that were once smooth and even.
Neck Lift and Rejuvenation for a More Defined Neck Contour
A neck lift is an effective surgical solution that removes excess skin and tightens loose muscles to restore smooth, youthful neck contours. It involves manipulating and redistributing fat and skin along the neck and jawline to add more definition to those areas.
Neck lift surgery, with or without a facelift, provides many benefits.
Tighter, More Youthful Appearance
The procedure is highly effective at turning back the clock by smoothing lines, wrinkles, and vertical banding to give you a more refreshed, rejuvenated, and youthful look. By addressing these signs, patients can restore a more refreshed appearance that looks natural and balanced with their facial skin.
Improved Confidence
Achieving freedom from the burden of sagging neck skin will make your confidence and self-esteem soar.
Minimal Recovery
A neck lift has a relatively fast recovery period than many other invasive cosmetic surgeries. Typically, patients can resume work and other daily activities within two weeks of their procedure.
Long-lasting Results
While the procedure won't stop the aging process, patients enjoy long-lasting results, often up to 10 years. Repeated procedures are possible to address any new signs of aging.
Enhancing Your Neck Lift Results With Facial Rejuvenation
Visible aging is not limited to the neck. Our goal is to achieve a more balanced and cohesive facial/neck appearance, and Dr. Butler offers various transformative facial rejuvenation options that can be used in combination with your neck lift.
Among them include:
Dr. Butler is double board-certified with years of experience in cosmetic and reconstructive surgery of the face and neck in Santa Monica, California. During your initial consultation, he will evaluate your concerns and recommend the most effective solution to achieve unparalleled results, focusing on natural beauty.
Don't Neglect the Neck! Schedule Your Consultation Today!
Your neck is an extension of your face. If you feel like your poorly defined neck is detracting from your otherwise youthful-looking appearance, we can help! We recommend the most appropriate treatment options to help address your neck aging concerns with the ultimate goal of achieving beautifully radiant results that balance the rest of your face.
Contact us today at (310) 428-0033 or fill out our online form to schedule your consultation for customized neck tightening treatments that provide stunning and natural results for a more vibrant look.