2 Minute Read: 
Rhinoplasty is a plastic surgery procedure that alters the shape, size, and features of your nose. But the finished effect can also impact the appearance of your entire face. Happily, it's typically a positive impact.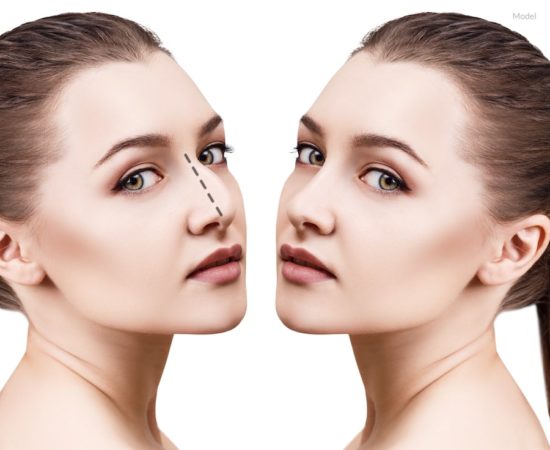 How Does Rhinoplasty Change the Look of More Than Just My Nose?
Your nose is in the middle of your face. So, when it has a prominent or unusual appearance, it can easily become a focal point. After rhinoplasty minimizes those noticeable features, people notice your other facial attributes more readily. Your whole face is more attractive.
Choosing to transform your nose to match or copy your idea of the "perfect" nose can be a mistake. If that look doesn't compliment your bone structure or facial anatomy, the results may be disappointing. Symmetry and balance are important to facial aesthetics. Dr. Butler will counsel you on surgery that maintains proportion and harmony between your nose and your entire face.
What Type of Rhinoplasty Techniques Do I Need?
As an experienced board-certified facial plastic surgeon, Dr. Butler tailors your rhinoplasty procedure to your needs. Your nose, the changes you desire, and the extent of surgery required to meet your goals help determine which technique he will use.
Open rhinoplasty and closed rhinoplasty are the most common methods. Grafts may or may not be used. With a closed rhinoplasty, Dr. Butler makes all the incisions inside your nose, preventing visible scarring. This method is often used to remove a nasal hump or perform other changes to the upper part of your nose.
In open surgery, Dr. Butler makes a small incision in the tissue between your nostrils, beneath the tip of your nose. This approach may be used to shape the tip and middle part of your nose. He may also make incisions within your nose during an open rhinoplasty to achieve the results you have discussed.
What Results Can I Expect From Nose Surgery?
A very tiny structural change can make a huge difference in the appearance of your nose. Naturally, results vary depending on the unique characteristics of each patient. Dr. Butler will discuss the results you're seeking during your consultation. He will provide an honest assessment of the changes you can expect and the work that is required to achieve them.
After surgery, you should see a noticeable difference after the swelling goes down in a few weeks. But it may be a full year before the full and final effect of your nose job is complete.
Interested in Learning More?
Learn more about how rhinoplasty may be able to enhance your appearance. Call David M. Butler Facial Plastic Surgery Center at (310) 428-0033 or fill out our online contact form to schedule a consultation to discuss whether rhinoplasty is right for you.