3 Minute Read:
Many people who are unhappy with their aging skin seek out aesthetic facial surgery. A facelift helps eliminate signs of aging by trimming excess skin and tightening the skin's underlying tissue. Facelift surgery is a procedure that leads to years of positive, youth-restoring results. Unfortunately, since facelift surgery does not prevent additional aging, it may need to be redone.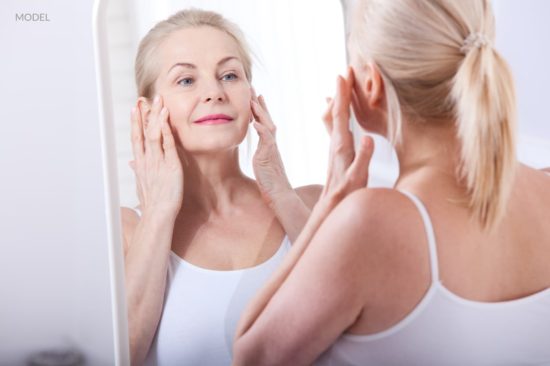 Facelift revision surgery is a secondary procedure that adjusts and improves upon initial facelift results to maintain and prolong youthful features. While multiple facelift procedures are common, many people have concerns about the safety of facelift revision surgery.
Is It Safe to Undergo More Than One Facelift?
For most people, it is possible and safe to undergo more than one facelift. However, this is entirely dependent on the individual and their health. While studies have shown that older patients in good health tolerate surgery and anesthesia well, many health problems, such as heart disease, lung disease, and high blood pressure, are more common with aging; if unrecognized, these can increase the risk for complications during facelift revision.
To ensure your safety during facelift revision surgery, it is important to make your surgeon aware of any health conditions you have that may complicate your surgery.
What Are the Additional Risks and Complications Associated With Repeated Facelift Procedures?
Anesthesia is generally safe; however, it does present the possibility of complications, especially for those who are older or have pre-existing conditions. This is why many individuals are wary about being put under general anesthesia more times than necessary.
Additionally, during a facelift, facial tissues are divided, tightened, and supported. These actions depend on healthy soft tissue resilience and good circulation. Patients with deficient elastic tone and very thin skin with poor circulation, or who have had problems with previous scarring, are at higher risk for complications during revisional facelift surgery. These issues can sometimes be planned for and circumvented. In other cases a different approach than surgery may be indicated.
What Are Alternative Treatments to Maintain Youthfulness Besides a Second Facelift?
If you are concerned about undergoing facelift revision surgery, there are non-surgical options to help maintain your youthful appearance. Dr. Butler offers laser rejuvenation, and muscle relaxants to reduce the look of wrinkles and laxity without major surgery. Injectable volume restoration, and medical-grade skin care programs may also be recommended.
Additionally, Dr. Butler offers intense pulsed light therapy to help eliminate signs of aging, such as age spots, vascular lesions, acne, and hyperpigmentation. A consultation with Dr. Butler can help you determine which treatments will best maintain the results of your initial facelift.
How Many Facelifts Can a Person Undergo?
When it comes to how many facelifts that a person can undergo, there is no specific number. This answer depends solely on the patient. Many people undergo multiple facelift procedures with no problem, while others are not so lucky.
Everyone has different needs for facelift surgery; therefore, it is important to talk with your surgeon to determine how many facelifts are safe for you and your specific needs.
Would You Like to Learn More?
To learn more about your facelift revision surgery, schedule a consultation with Dr. David Butler to determine your safest options. Contact us today at (310) 428-0033 or fill out our online contact form.