3 Minute Read:
Are you in your 50s and need help with lines, wrinkles, or other signs of aging?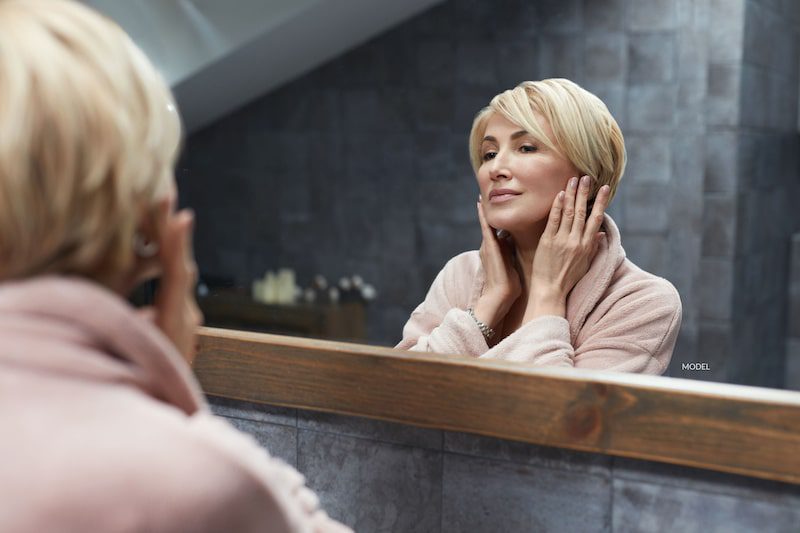 There are many highly effective non-surgical treatments that can rejuvenate aging skin, as well as surgical procedures you may want to consider for more permanent results.
Non-surgical Cosmetic Treatments for Those Over 50
If you're not ready for a surgical procedure to improve the appearance of lines, wrinkles, discoloration, or loose skin, the following non-surgical treatments can help defy time and keep your skin looking younger than it is.
Laser Skin Treatments
Fractional resurfacing – Improve the appearance of wrinkles, discoloration, skin tone, and texture with this laser energy technology. Fractional resurfacing creates micro ablation channels in the dermis to trigger your skin's natural healing process and promote rapid collagen production. This treatment offers minimal discomfort and downtime.
Micro laser peel – A short-pulsed Erbium laser is used to remove the top layers of skin and reveal a younger-looking complexion. The results are significantly reduced fine lines, wrinkles, sun damage, acne scars, and improved skin tone.
Photofacial IPL/BBL – IPL (intense pulsed light) is a highly effective technology for treating sun damage, vascular lesions, active acne rosacea, and other pigmentation issues. While it is an excellent facial skin treatment, it is also effective on other areas of the body, including the décolleté, chest, back, hands, arms, and legs.
Laser vein treatment – This therapy is ideal for individuals with spider veins, small varicose veins, cherry angiomas, and more, anywhere on the face or body. This treatment approach can successfully reduce or eliminate blue and red vessels up to 3mm in diameter.
These laser treatments are among the most effective non-surgical skin treatments available.
Injectable Skin Treatments
If you have taken good care of your skin and never received dermal fillers or neuromodulators to reduce lines and wrinkles or add volume, these injectable treatments can be very successful at helping you look younger.
However, if used often, facial fillers may lose effectiveness, last only for a short time, or stretch and loosen the skin. If this is the case for you, it may be time for a more permanent solution.
Surgical Cosmetic Procedures for Individuals in Their 50s
Plastic surgery provides exceptionally long-lasting results and can make you look decades younger! Plastic surgery in your 50s doesn't always have to include a facelift.
As a matter of fact, some of the most common signs of aging cannot be addressed with a facelift alone.
Upper Face/Eyes & Brows
A furrowed brow, droopy upper eyelids, or bags under the eyes are best treated with a brow lift or blepharoplasty (eyelid surgery).
Loose Neck Skin
Another problem area is the neck, which often becomes loose and wrinkly before the face. You can choose to receive a neck lift alone or with a facelift.
Cheek Augmentation/Enhancement
The loss of cheek volume is difficult for a facelift alone to correct, and while some recontouring of the midface is possible, a cheek enhancement procedure may be necessary.
This is achieved surgically with the aid of fat grafting or cheek implants and non-surgically with dermal fillers, which may include:
Facelift
A facelift is designed to address the lower to mid-face areas and usually includes the recontouring of the neck, jowls, and cheek areas.
Facelift surgery treats lax skin by tightening the facial muscles, sculpting fat deposits, and removing excess, loose skin to restore a more youthful, natural-looking appearance with long-lasting results.
Skin Treatments for Individuals Over 50 in Santa Monica, CA
Dr. David Butler is a double board-certified plastic surgeon in Santa Monica, California, providing comprehensive surgical and non-surgical skin treatments for women and men of all ages.
His state-of-the-art Santa Monica cosmetic surgery practice offers a wide variety of surgical and non-surgical procedures to help you look fantastic and feel better at any age.