3 Minute Read:
A tear trough is a deep, hollowed groove that develops beneath the eye — between the lower eyelid and upper cheek. Prominent tear troughs are characterized by a sunken appearance that casts a shadow below the eyes, resulting in a tired appearance or puffiness, despite adequate rest. Most people with tear troughs also tend to look older, making it necessary to seek cosmetic treatment to alter their appearance.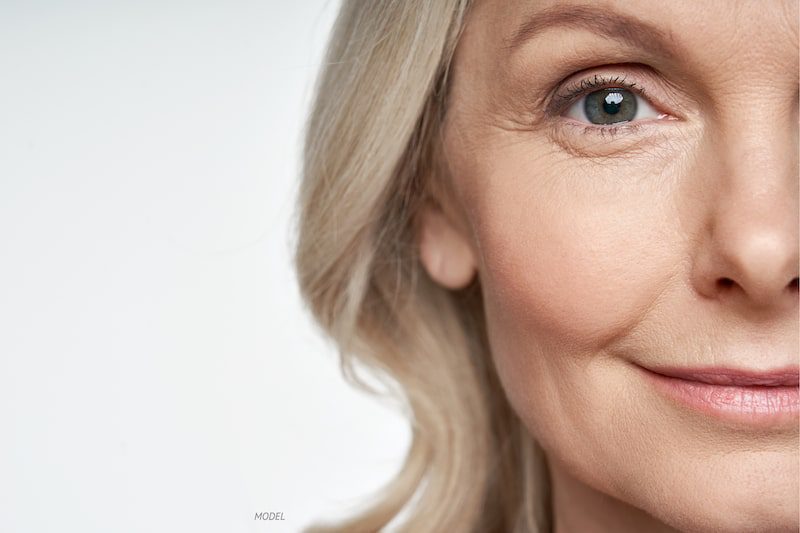 What Causes Deep Tear Troughs?
For certain individuals, tear troughs are an inherited trait, while in others, the deep under-eye crease becomes more prominent with age. That's because facial tissues often lose volume as we get older, leading to the loss of support of the lower eyelids. As cheek fat thins and descends, a hollow trough appears.
Is It Possible to Treat My Deep Tear Troughs With Dermal Filler?
Dermal fillers can make a noticeable difference in the appearance of a prominent tear trough. The treatment uses fillers like Restylane® and JUVÉDERM® to restore facial volume in the area and create a firmer, more supple, and youthful appearance.
Filler options like Restylane® or JUVÉDERM® are composed of hyaluronic acid, a filler that plumps up and adds volume to the eye tear trough with little to no downtime. This can be an alternative to surgery for treatment of the early to moderate tear trough and reduce the appearance of eyebags and hollowing under the eyes.
Why Choose Dr. David Butler's Practice for Tear Trough Filler Treatment?
Injecting around the eye can be challenging and requires more precision. Therefore, it's imperative to work with the right specialist like Dr. Butler, who is familiar with the delicate anatomies and facial structures around the eyes.
You want your treatment to be effective and safe. Carefully choosing an expert in under-eye filler treatments is an integral part of the process. Dr Butler will guide you on filler choice and location to ensure you achieve the most optimal, natural-looking results.
When issues go beyond what fillers are intended for, Dr. Butler can advise the appropriate surgical next steps.
Are There Risks to Dermal Fillers for Tear Troughs?
Over or underfilling and bruising or discoloration can occur, but are generally avoidable by entrusting care to an experienced aesthetic practitioner like Dr. Butler and his staff.
Before your treatment, you'll have a consultation to evaluate your concerns and check the thickness of your skin to determine your candidacy for the procedure. Ideally, good candidates should have thick, healthy skin and realistic expectations of the procedure's outcome.
Results will be evident immediately after treatment for most patients and will noticeably improve as the filler settles.
Tired of Deep Tear Troughs? Find a Treatment Now!
If you are unhappy with the appearance of tear troughs but do not require eyelid surgery, dermal fillers can be an effective, non-invasive treatment.
Contact us at 310-428-0033 or fill our online form to schedule your consultation and let us develop the right treatment plan for you. You can also visit our dermal filler before and after photo gallery to see how Dr. Butler has helped his previous patients.