Endotine Lifts in Santa Monica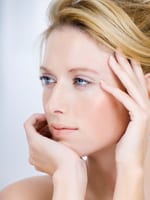 For an effective, safe and simple brow lift, many patients seek an Endotine lift procedure. This revolutionary procedure is performed through one incision in the upper lid, the same used for a traditional blepharoplasty procedure. However, with the Endotine procedure, a tiny device is implanted into the brow that allows the sagging skin to be suspended across three stable soft tissue anchors.
Patients can enjoy the results of an Endotine Direct Brow procedure without undergoing a full brow lift or forehead lift procedure. The Direct Brow device combines the effects of removing upper eyelid skin and repositioning the brow through one simple procedure. This procedure can be performed in our Los Angeles area office under local anesthesia in just minutes, and patients are able to return home the very same day. The Endotine TransBleph procedure is ideal for patients with mild to moderate brow ptosis (droopiness) who wish to avoid or prolong the need for a full forehead or brow lift.
A Silhouette Lift® is a revolutionary, nonsurgical alternative to a facelift that rejuvenates sagging, wrinkled skin for a younger and more refreshed look. Patients seeking subtle yet natural-looking results are often satisfied with their appearance after a Silhouette Lift. Ideal candidates for this procedure include younger patients seeking to counteract the early effects of aging, or those who have already undergone a facelift and are again experiencing sagging skin.
During the Silhouette Lift procedure, special threads and pulleys are used to lift the skin and underlying fat with less pain and no need for general anesthesia. The results of this procedure are visible right away, and will continue to improve over the next three to six months as collagen adjusts to the position of the threads and further fills out the face.